An auctioneer in L.A (Los Angelas) claims they had to pull the sale of the lightsaber because of "conflicting information".
According to the description it was one of the five lightsabers designed by the Academy award winning set-designer Roger Christian for Luke Skywalker himself (Mark Hamill) for Episode IV: A New Hope in (1977) known back then simply as "Star Wars".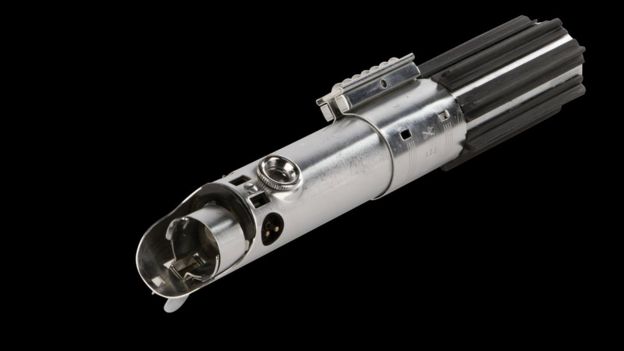 But there was a disturbance felt by some fans and people started to raising some questions, before that the lightsaber was expected to sell for $200,000 (£157,000). The Profiles in History chief executive Joe Maddalena said, the sale had to be cancelled since in light of the saber's origin had "conflicting information". With Maddalena also informing sources that the item would not be put back up for auction:
"Until Mr Christian can clear up the inconsistencies that have been brought to our attention".
– Joe Maddalena
The Blockbuster Hollywood Treasures Auction is where the item was due to be listen on the 11th to 14th of December. – As reported in a statement by Reuters. Christian did end up providing a letter of authenticity with the iconic item. But the Original Prop Blog made a series of videos raising doubts about the piece, including apparent discrepancies between the lightsaber shown in the letter and the one that's in the catalogue for the auction.
Mr Roger Christian went on to tell the BBC that it was 1/5 original lightsabers he made for the film telling them:
"It is real – I've got the Oscar to prove it."
The Oscar winner said the film's low budget meant he was putting together lots of different elements to make the props, meaning all of them were unique.
"I was supergluing things together – they all look different."
The entire dispute started only a week after Mark Hamill himself tweeted about the auction as seen below:
Be Advised-There was no ONE lightsaber I used in the films, but many, MANY, both for myself & my stunt-double. Multiple duplicate back-up props are commonplace during production-When the handle ridges were cutting my hands, they even made a few w/ soft sponge ridges! #BuyerBeware https://t.co/C6Tv4TGIPy

— MarkHoHoHoHamill (@HamillHimself) December 4, 2018
"Be Advised," the actor wrote, "There was no ONE lightsaber I used in the films, but many, MANY, both for myself & my stunt-double." He ended the tweet with the hashtag, #BuyerBeware.
The original hilt carried by Mark Hamill in A New Hope was made from the flash attachment of a Graflex 3 cell flash unit, a flash tube attachment used on forties-era press cameras, with the ridged grips made by gluing portions of hard plastic T-track used for cabinet sliding doors (often mistaken for wiper blades) onto the bare cylinder, and the switch plate fashioned from the LED display of an Exactra 19 or 20 calculator. A D-ring assembly was also added to the bottom.
Source: BBC News
Written By: Jamie Joe Thompson