Last week it was announced by the Official Star Wars Site, StarWars.com that Diego Luna would be reprising his role as Rebel Spy Cassian Andor is a Rogue One Prequel Series.
The Rogue One prequel series follows Luna's rebel spy Cassian Andor during the formative years of the Rebellion. With the series being described as a "rousing spy thriller", the unnamed series is set to "explore tales filled with espionage and daring missions to restore hope to a galaxy in the grip of a ruthless Empire."
During an interview with Steve Weintraub of the Collider, Weintraub was able to sneak in a few Star Wars questions for Luna during a press round for the Netflix Series Narcos: Mexico. From scheduling to Jabba the Hutt.
Steve Wientraub: Is it true or not true that you decided to do this Rogue One prequel series because they're going to put Jabba the Hutt in it so you can touch him?
"No, no, no. I guess my life will change the day I get to find out what the texture of Jabba's skin [is like.] [laughs] One thing you say on one day in the middle of 150 interviews suddenly haunts you for the rest of your life. It's incredible the amount of shit I get for that, I love it. I love it … but I still want to touch Jabba the Hutt."
– Diego Luna
Steve Wientraub: When did you find out that you were going to do this show? 
"Very recently, that's why I know very little. Very recently. I'm thrilled, I'm happy; it's a dream come true to go back to that universe. I grew up watching those films and now I'm sharing that with my kids, so I'm very happy."
– Diego Luna
Steve Wientraub: Do you have any idea when you might be filming?
"That I don't know. I know as much as you know. That thing they sent to the press? I got that the day before."
– Diego Luna
But a Prequel Series wasn't the only piece of Rogue One news to be announced, as now there are two brand new Rogue One posters up for grabs.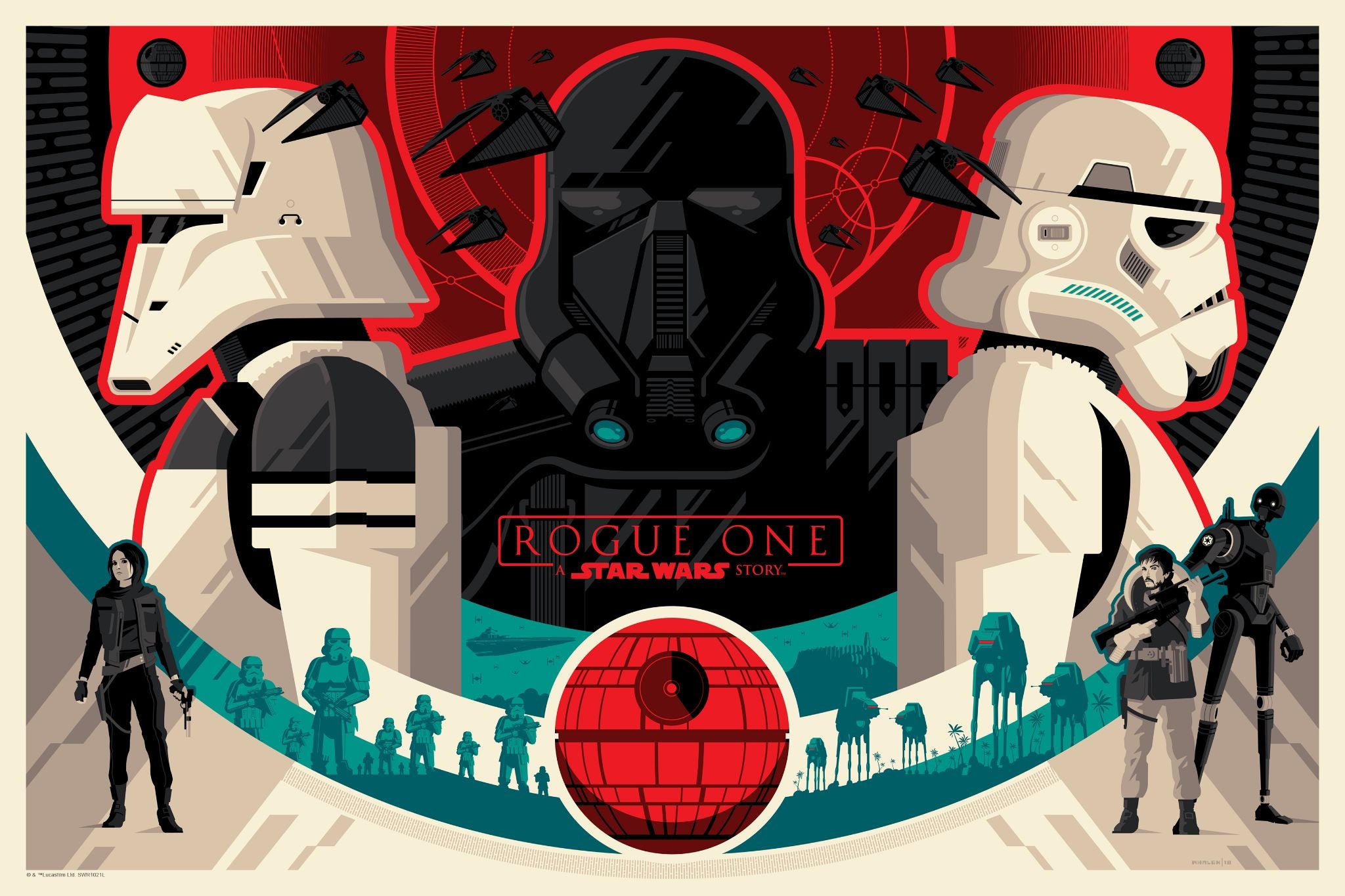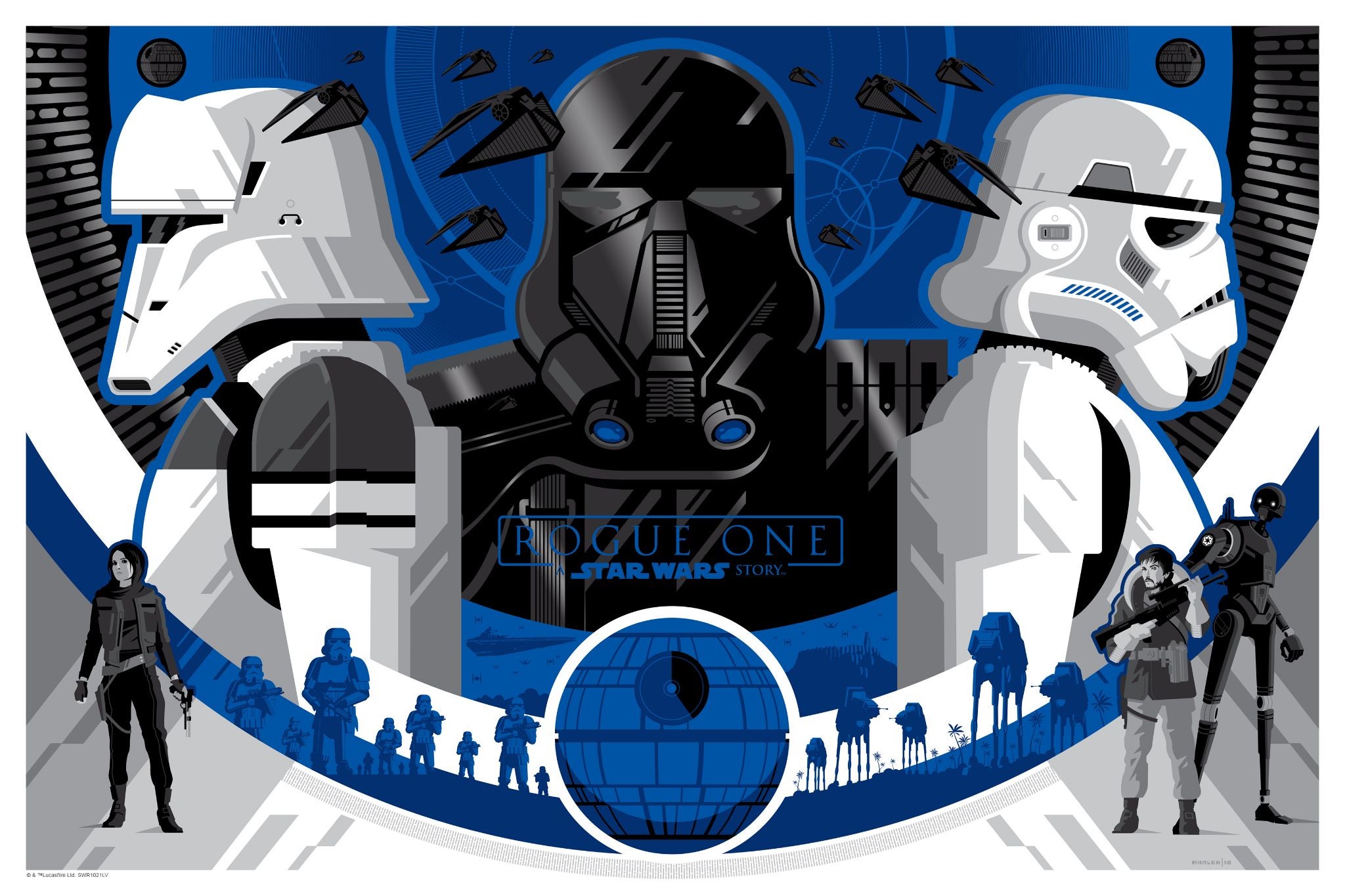 From artist Tom Whalen, who in conjunction with Lucasfilm, Acme Archives, Bottleneck and Pulse Galleries will be releasing this brand new posters based on the hit film, which are available to buy now over at both Darkinkart.com and Bottleneckgallery.com. $50 for the Red Poster & $55 for the Blue Poster.
The idea of a Cassian Andor Prequel series has gotten fans talking, most looking forward to the series, with some that aren't. And to get an idea on what fans thought of this concept, we conducted a poll over on our Facebook Page. With over 4,600 fans voting. After once week of voting, these were the results:
With just over two thirds showing interest in the new series. With 31% not showing interest. Though when the trailer for the series drops, we'll be conducting another poll. As interest should change with the arrival of a trailer. Fans will be able to get an idea of what to expect from the series.
Source: Collider 
Written by: Connor Heggie