All right. Once again, this is rumour control. Here are the facts.
According to The Hollywood Reporter, former MMA fighter Gino Carano will be joining the cast of the upcoming Star Wars tv series, The Mandalorian. This news comes days after it was announced that Game of Thrones & Narcos star Pedro Pascal will be leading the series. With Variety reporting earlier this week was in negotiations with LucasFilm to star.
Carano first made herself known for her MMA prowess, whilst compiling a professional record of 7-1 while competing in organisations like EliteXC & Strikeforce, while also appearing in the 2008 reboot of "American Gladiators."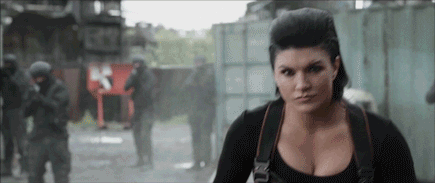 And like some (like The Rock, Rodney Piper & Dave Bautista) she moved on from "fighting sports" to film. Becoming an actress, beginning with Steven Soderbergh's 2011 film "Haywire" and has also starred in films like "Deadpool," "Fast & Furious 6," and "Kickboxer: Vengeance."
Given her previous roles, it's not hard to imagine that she'll be portraying a tough, no nonsense character alongside Pedro Pascal's Mandalorian.
Episode of The Mandalorian will be written by executive producer Jon Favreau and directed by Dave Filoni (Star Wars: The Clone Wars), Taika Waititi (Thor: Ragnarok), Bryce Dallas Howard, Deborah Chow (Better Call Saul), and Rick Famuyiwa (Dope). With Filoni directing the pilot episode. His first live action take on the Star Wars universe.
The series will be executive produced by Jon Favreau, Dave Filoni, Colin Wilson and LucasFilm President Kathleen Kennedy, while also being co-executive produced by Karen Gilchrist. The Mandalorian will premiere next year on Disney's upcoming streaming service, Disney+.
Source: The Hollywood Reporter
Written by: Connor Heggie