These words are written in remembrance of Carrie Fisher, the woman behind the world's favorite space princess. Today would have been her 62nd birthday.
I wish my Star Wars fandom had a different origin story, but sadly I don't have a warm, fuzzy story to share about the first time I ever saw Star Wars. No, I was immersed in it from the very start. When I was young, I went along with whatever my older brother did – and what he did was love Star Wars, so I was along for the ride. I don't remember the first time I saw a lightsaber light up the screen or what it felt like learning for the first time that Vader was Luke's father.
But I remember Leia.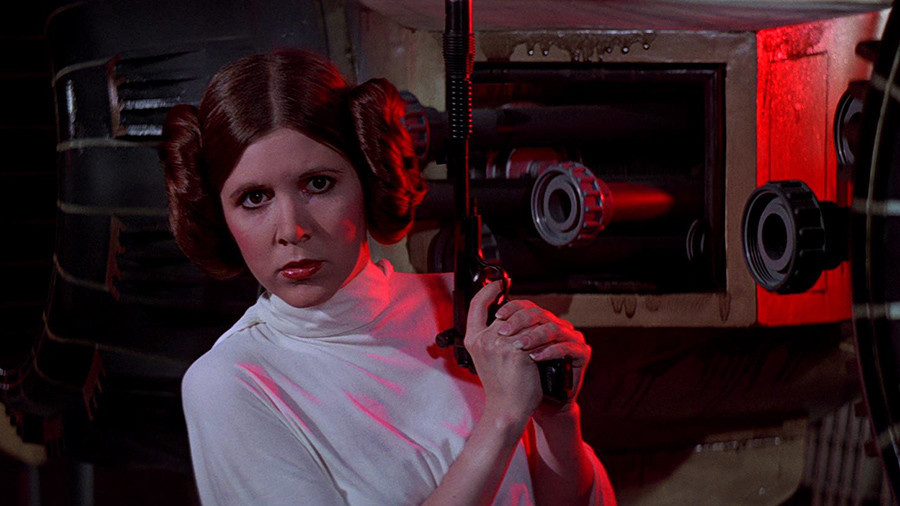 Growing up, I knew how much I liked her. Beautiful and funny and a PRINCESS. What's not to love, for a young girl? But it wasn't until I got older that I realized just how rare of a gem she truly was. Representation of diverse, female characters – interesting, multidimensional female characters – is frustratingly hard to come by. Carrie Fisher set a new precedent in the industry with her portrayal of Princess Leia Organa in the films.
Leia shows young girls and boys that women contain multitudes. She is strong, feisty, passionate, and self-assured. She is not afraid to speak her mind, stand up for herself, or take matters into her own hands (even if it means taking over her own rescue mission). She is a princess but also a general, a rebel, a lover, a fighter, a sister, a wife, a mother, and a leader.  Leia reminds young girls that they are capable of far more than they can possibly imagine and that womanhood is powerful.
Of course, there was much more to Carrie Fisher than her role as Leia.  A mental health advocate and warrior, Carrie touched the lives of many who struggled with their own mental illnesses, myself included. She inspired people to bare their souls to the world, flaws and all, and not to be afraid of laughing through the heartache. Carrie Fisher was wholly real, unabashedly witty, and perfectly imperfect.
Ask any female Star Wars fan what the franchise means to them and I'd wager that for most, if not all, Carrie Fisher's face is the one that comes to mind. And since I don't speak for all women, I did just that. Here is what some other female fans had to say:
"To me, Star Wars is about seeing representations of tenacious, independent women and realizing that we could be tenacious and independent ourselves. It's about understanding what makes us human and not holding that against ourselves. And, of course, it's about realizing that we are strong and powerful, as small as we may think we are."
– Susan T.
"With this next generation of films, I'm loving seeing women in leading roles not focusing on love and relationships."
– Sara R.
"Powerful women in the Star Wars universe helped shape who I am today. Princess Leia's determination to do the right thing and fight for what she believes in had such an impact on me. She took charge of her own destiny. Even in the midst of chaos, she stood firm in her convictions. Having a powerful woman to look up to like that changed my life."
– Kristen B.
"I was late to the Star Wars fandom and the minute I watched it,I was obsessed with Leia. The more I learned about Carrie Fisher the more I loved her, may she rest in peace. She's an icon that the women of today should look up to. Her openness about her struggles and her IDGAF attitude helped me through some trying times in my life."
– Lauren Z.
"Carrie Fisher taught me that I wasn't a failure for having mental illness, that I could still create great things and change the world for the better. Princess Leia showed me that anger in women is not an aberration,  that it can be a powerful force for resistance and rebellion."
– Helena H.
"Princess Leia was one of the first women that I looked up to, and she taught me so much. I learned that you can be fearless and snarky and authoritative and loving and intelligent and sexy. I learned to be my own person regardless of what others think of me. I learned that a woman can fight and a woman can lead and a woman can love all at the same time. I will never be able to thank her enough."
– Emma O.
Carrie, your impact on the world of Star Wars and in the lives of fans will continue on for years to come, as generation after generation of young girls are introduced to one badass princess. You are fondly remembered, deeply missed, and you will always be royalty to us.
Happy Birthday and May The Force Be With You.
Written by: Brianne Bucks